Visibility is a crucial element for public service offices. From infrastructure projects to weather analysis, state agencies leverage visual technologies to best serve their communities. When Wisconsin Public Service (WPS) sought to standardize its visual technologies, Camera Corner Connecting Point (CCCP), a division of ACP CreativIT, worked alongside WPS' team to assess their space and create an adaptable solution to enable at-a-glance visibility.
Business Challenge
In the past, WPS operated multiple legacy displays in its Electric Distribution Operations Center. Servicing individual displays was difficult since certain models were no longer available for parts. Furthermore, WPS could not maintain a standard display resolution and connectivity across their entire video wall since each display was different. To create a uniform visual experience across the room, Camera Corner partnered with WPS to evaluate the space. A new display system would have to fit the room's current curvature measurements while also ensuring future adaptability.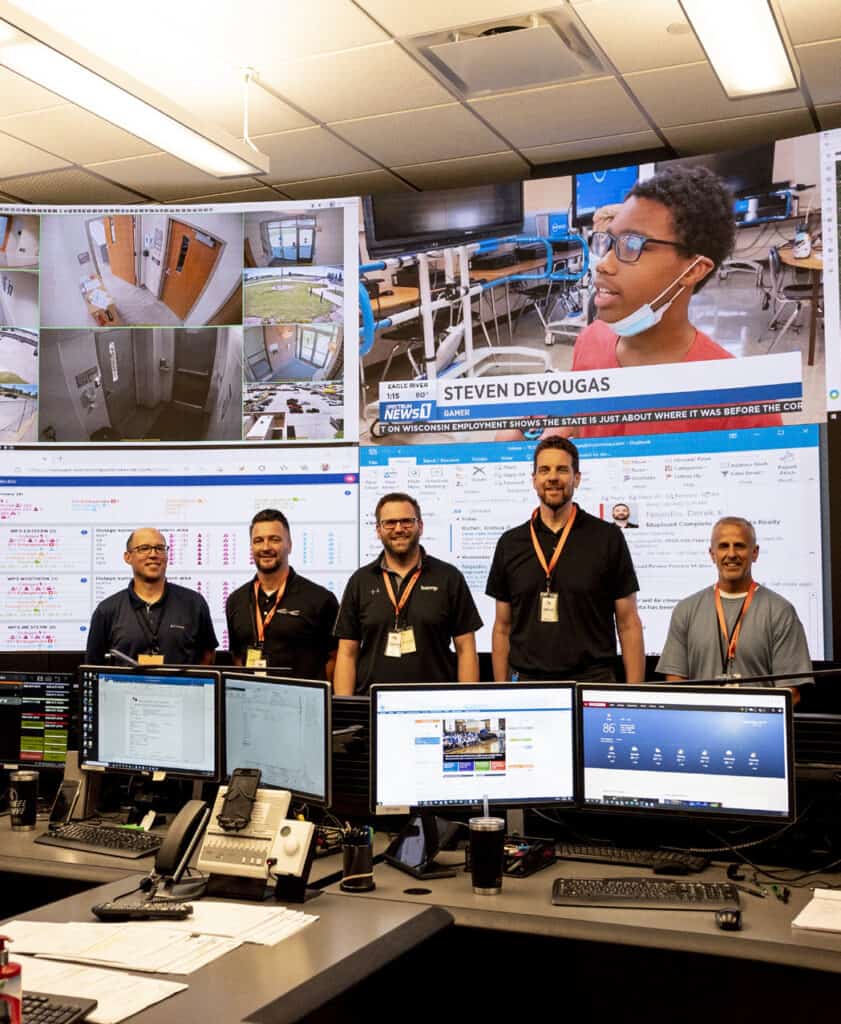 Solution
The strategy began with a careful on-site evaluation of WPS control room to capture angle measurements for the new video wall. After inspection, CCCP determined LED displays were the most suitable solution since they could be remotely configured to match each other and provide consistent image quality. CCCP chose Daktronics' LED displays after the manufacturer provided a custom preview of WPS' new wall, featuring displays with the following specifications:
1620 pixels high
10560 pixels wide
In half a month, CCCP set up a new video wall 44 feet wide and 6¾ tall, with a 1.2mm pixel pitch. A custom-built cabinet and frame was also created to fit the space and mount the video wall. While deployment was quick, CCCP continued to work with WPS to adjust screen settings and install additional software for expanded functionality.
"Part of our job is to ensure public safety, so any technology that helps us do our jobs better ultimately helps protect our community, too."
Steve Liegl WPS' Director of Infrastructure and Operations

Results
New LED displays elevated the visual experience, empowering WPS with pristine imaging for their crucial workflows. The modern video wall helped drive down repair costs since adjustments could be made seamlessly with the help of the CCCP team. Moreover, displays offer flexibility, so teams no longer need to reset sizes when working together. The new video wall accommodates the need for adaptability and multiple workflows, so different teams can operate displays at the same time without interference.
As a trusted vendor, CCCP continues to provide ongoing technical support and personnel training to keep WPS on track toward effective modernization.

About CCCP
Camera Corner Connecting Point, a division of ACP CreativIT, is a rapidly growing IT, managed services, and AV solutions provider, rooted in the Midwest, with an emerging presence and reach in the Northeast and Southeast regions. The organization is focused on an unwavering commitment to its customers and vendor partners to deliver world-class productivity, security, and collaboration solutions in an environment that encourages career development for employees and supports reinvestment for future growth and sustainability.