Make an Impression That Lasts
Digital signage isn't just a way to present information, it's a way to engage and inspire your employees and clients. Grab your audience's attention as soon as they enter your organization with a customized message, videos or photos alongside pertinent information for your business.
Considerations for Digital Signage
When planning for digital signage, here are a few key points for consideration:
Who's seeing content? Is it customers, employees or both?

Who's responsible for the content? Do you have a marketing department who can create graphics and update, or will it be controlled and updated by another department, such as IT?

How is the content updated, and how often?

Where will the signage be located, including indoor or outdoor, and distance from viewer.

What are the maintenance requirements?
Answering these key questions tell your integrator what type of digital signage platform and display would be best for your needs.
Form of Digital Signage
Show a welcome message from leadership, display your organization's history, customer testimonials and more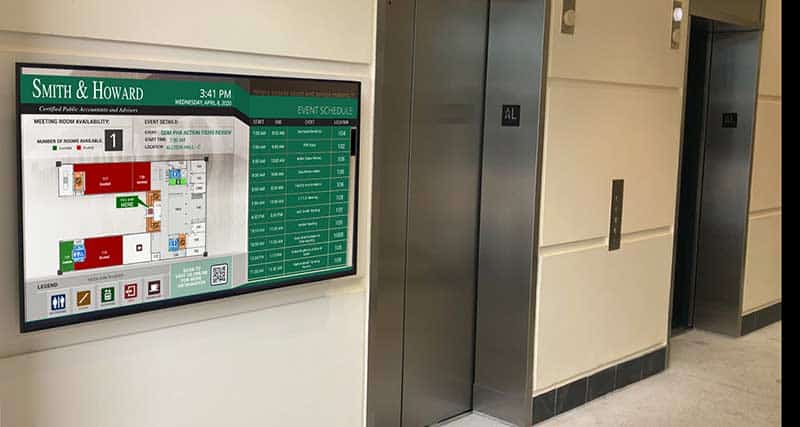 Welcome your incoming customers with a personalized message, celebrate employee anniversaries and birthdays, showcase upcoming events.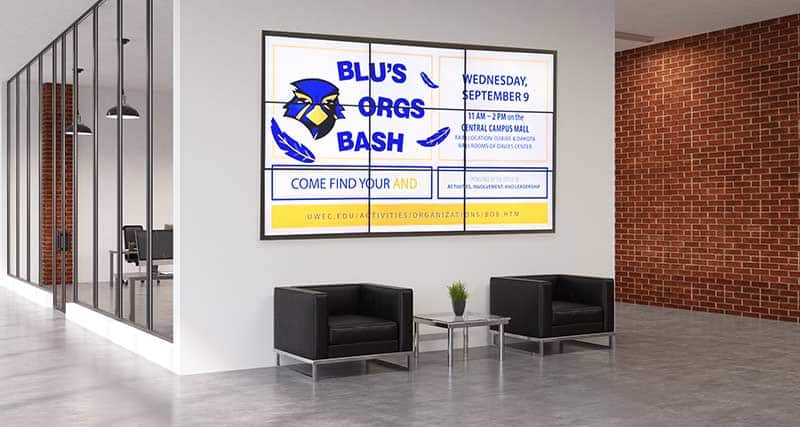 Display weather, date and time, popular sports statistics, and so much more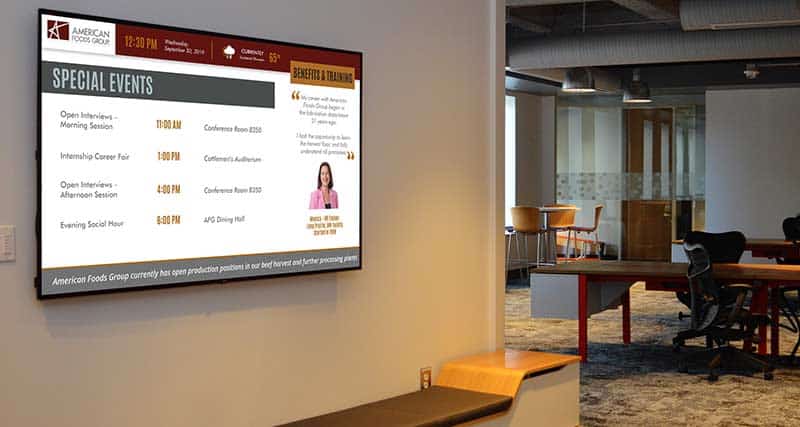 Complete Digital Signage Solutions
CCCP offers each piece of technology needed to get a digital signage solution to convey the message you desire, whether you're looking for a single standard display or a fully customized shape and size, we partner with the top manufacturers.
Display Technology
Display types range depending on the size, location and visual representation you desire. With multiple options, you can inspire and engage your audience in whatever way you see fit:
Options include:
Single units, such as an HD or 4K commercial TV display
Multiple display video wall for custom look and design to be hung how you desire
Direct-view LED for a customized, brilliant look and feel
Content Management Platform
We partner with the top software providers including Tightrope, Brightsign, Visix, and Provideo Player to name a few. These software companies give you an easy, manageable way to update content and display your information exactly how you want.
Our Process
Our approach entails four key points: design, source, deliver and support.
Design: We have a consultative approach. Our first step is to meet with you and ask questions to learn about your environment, who will see and utilize the digital signage solution, as well as learn about your budget and timeline. Based on our findings, our trained and certified staff will design a tailored solution for your needs. Our focus is to achieve your vision and assist in engaging your audience.
Source: Once the design is approved, we work with our distribution and vendor partners to get you the leading-edge technology you need. Our strong relationships give us greater buying power to keep your project in budget and on time.
Deliver: We deliver on our promises, as well as physically deliver and install the solutions for your organization. Our skilled installation team and programmers bring the custom solution from your design to life, ensuring the end result is exactly what you envisioned.
Support: Upon the solution being installed and programmed, CCCP offers training to ensure your team knows the ins and outs of the solution, resulting in a higher usage rate and positive experience for your employees. We also offer ongoing maintenance options, as well as future upgrades.