Focus on What Matters. We'll Handle the Technology.
We know patient care is your most important focus, but without the healthcare technology behind you patient care can suffer.
As you know, the healthcare industry is enduring the most fundamental challenges it has ever faced. At this critical time, you need a partner who understands both your current challenges and your future needs. We want to be that partner.
Today, we work with leading healthcare professionals throughout Wisconsin and the Upper Peninsula of Michigan; helping them with their IT and AV needs.
These customers are both large and small and include:
Hospitals
Clinics
Doctor offices
Health plans
Mental health facilities
Nursing homes
County healthcare
Chiropractor practices
Dental offices
Solutions
We have a wide portfolio of solutions that can help your organization run more efficiently including:
Desktops, laptops, and tablets (largest Apple Reseller in NE Wisconsin)
Wireless networks
Back up and data protection
Video conferencing
Video streaming
Presentation facilities
Video security systems and access controls
IoT
Securing and operating at the edge
Multi-site location solutions
Healthcare Solutions for Care Delivery at Hospitals
HP has a broad portfolio of products and solutions ideally suited for healthcare applications. Click here for a free healthcare quick reference guide.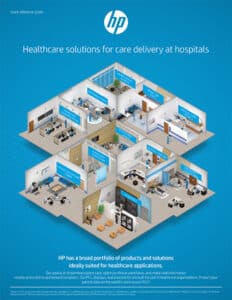 Why CCCP?
We have over 40 years of experience in both IT and AV. As these worlds continue to merge, it is critical to have a company who has significant expertise in both arenas.
Our primary goal is to assist your organization in overcoming the challenges you face, as well as bringing your vision to life. We have strong vendor partnerships that give us greater buying power and access to some of the world's most advanced technology, with the ability to custom create solutions tailored to your exact needs. Contact us today and see the Camera Corner difference.
Verticals Served
Our team provides custom solutions to organizations across the Midwest. We are a trusted advisor for our clients and can assist in whatever types of projects you desire to implement. Click a vertical below to learn more about how we have helped others with their technology.