Complement the Performers with the Right AV Solution
Create a highly specialized audio visual solution for performance spaces while keeping the unique architectural values, whether it's new or historic.
CCCP ensures your space has uniform coverage across the full spectrum of sound, giving you the highest audience satisfaction and enjoyment.
Considerations for Performance Spaces
When looking at an AV solution for an auditorium, theatre or event venue, it is vital to have an advanced audio rendering completed. This allows for predictions in sound travel and ensures in the design phase that the right equipment is quoted based on your exact space.
When you work with CCCP, we have engineers specifically trained on sound travel who can map out your space and find exactly how the sound will reverberate and be heard by the audience.
Another consideration is sight lines of the space. These help:
Determine proper video screen placement
Projector or video wall size
Light (internal and external) also needs to be taken into account, as projector brightness is determined by what lighting controls are in the room.
Finally, you need to determine what kind of events are held in the space. CCCP can design a system for great flexibility if you have a need for multiple functions in the space (i.e. sports, theatre, concerts), but we can also design for a single function (i.e. community theatre).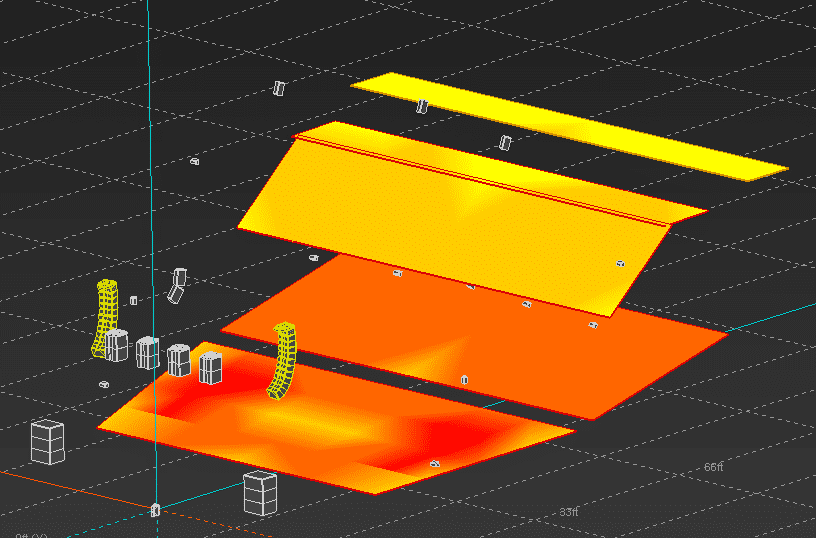 Why CCCP?
Our team consists of designers, engineers and installation technicians who have many years of experience in live production, from houses of worship and sports facilities, to live theatre and concerts. This experience gives us the ability to understand your needs on a deeper level, and engage your audience utilizing the technology and solutions our team offers.
Our Process
Our approach entails four key points: envision, engineer, execute and engage.
Envision: We have a consultative approach. Our first step is to meet with you and ask questions to learn about your goals, as well as learn about your budget and timeline. Based on our findings, our trained and certified staff will design a tailored solution for your needs. Our focus is to achieve your vision and assist in engaging your audience.
Engineer: Once the design is approved, we work with our distribution and vendor partners to get you the leading-edge technology you need. Our strong relationships give us greater buying power to keep your project in budget and on time.
Execute: We deliver on our promises, as well as physically deliver and install the solutions for your organization. Our skilled installation team and programmers bring the custom solution from your design to life, ensuring the end result is exactly what you envisioned.
Engage: Upon the solution being installed and programmed, CCCP offers training to ensure your team knows the ins and outs of the solution, providing a positive experience for your employees. We also offer ongoing maintenance options, as well as future upgrades.