Make Sure Your Meeting Makes the Impression You Desire
We've all been in a meeting where the content was great, but the experience was poor. Maybe you couldn't hear the speaker very well, or the screen was too far away for you to see anything, or the room was so complicated to setup you never even got started. CCCP, a division of ACP CreativIT, offers solutions for video conferencing that allow for seamless communication across your company and with your clients.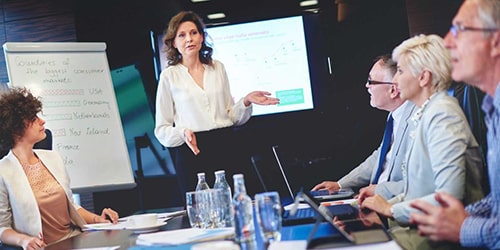 Considerations For Video Conferencing
There are two main considerations to make when you begin your search for a video conferencing space: a flexible solution or a software-based solution.
A flexible solution allows the end user to use their own laptop, iPad or other device and whatever software they prefer to run the meeting.
A software-based space is built around a specific solution, like Microsoft Teams, Zoom or Pexip. These spaces allow users to bring their devices in and share their screen, but mainly utilizing the software selected for that room. This is a great option for companies that have standardized on a specific video conferencing tool.
Our team has deployed solutions for many organizations who've standardized on varying platforms, as well as options for your team to use whatever video conferencing software they'd like.
Additional items you should think about are screen size of the display, how is content being shared and how many will be in the room. To learn more about planning your video conferencing space, contact us today.
Our team offers simple solutions that create consistency from space to space for ease of use and a positive user experience.
Our Process
Our approach entails four key points: envision, engineer, execute and engage.
Envision: We have a consultative approach. Our first step is to meet with you and ask questions to learn about your goals, as well as learn about your budget and timeline. Based on our findings, our trained and certified staff will design a tailored solution for your needs. Our focus is to achieve your vision and assist in engaging your audience.
Engineer: Once the design is approved, we work with our distribution and vendor partners to get you the leading-edge technology you need. Our strong relationships give us greater buying power to keep your project in budget and on time.
Execute: We deliver on our promises, as well as physically deliver and install the solutions for your organization. Our skilled installation team and programmers bring the custom solution from your design to life, ensuring the end result is exactly what you envisioned.
Engage: Upon the solution being installed and programmed, CCCP offers training to ensure your team knows the ins and outs of the solution, providing a positive experience for your employees. We also offer ongoing maintenance options, as well as future upgrades.