Considering Digital Signage? Ask Yourself These Questions!
Digital signage is becoming a common sight these days. It's utilization spreads between a variety of markets and applications. If you're looking to add digital signage to your workplace or business, it's important to determine a few items first.
Internal or External Communication?
The most important thing with digital signage is asking one simple question: what is its purpose? Will the digital signage provide internal communication or external communication? Here are a few examples of each to get your vision started:
Internal: Company Announcements, Safety Messages, Upcoming Calendar, Goals, Metrics, Company Culture Items, New Employee Introductions
External: Event Announcements, Building Directions, Sales, Advertising Content, Social Media Feeds
Picking either your employees or customers to concentrate on will help focus your content.
What Is the Location of the Display?
Once you determine your target audience, your next consideration should be placement. If internal communication is what you're after, an employee breakroom, lounge or employee entrance are viable options. Keep in mind, if you're going to display sensitive information like company goals and metrics, it may need to be kept out of publicly-accessible areas.
If it's external communication, finding a reception desk, waiting area or public entrance could catch the targeted individual's attention. Many people pass the time on their phone while in a lobby or waiting room. Finding the right location paired with engaging content can shift eyes from their screen to yours.
Who will be taking on the role of content creator?
The sky is the limit with digital signage. It's possible to display 3D graphics, 4K video, custom weather information and so much more. However, you need access to individuals with the ability to create this content for you. Be realistic in your expectations. Does an internal team member have both the time and talent to create the type of content you're looking for? If not, are you willing to bring in external talent to produce creative for you?
If simplicity is what you're after, creating content for digital signage can be as simple as exporting a PowerPoint presentation. Training your own staff to create simple yet elegant, single-zone presentation, is a realistic goal for almost any type of business. It's not always necessary to overcomplicate digital signage content. For many applications, a well thought out single-zone template can be used for months at a time. With a template created in PowerPoint, almost anyone can go into a project, update the text for the current week and save the slides into a compatible file type.
One of our most common digital signage solutions is a player from BrightSign. BrightSign offers a wide range of digital signage players that include free content management software. The players themselves are affordably priced and more importantly, offer some of the highest reliability on the market. With a BrightSign player you can dive into HTML5 programming or enjoy the convenience of easily edited templates* right from BrightSign. With that kind of flexibility, organizing and implementing a digital signage strategy is within reach of any business or organization.
If you're interested in learning more about what digital signage can offer, please reach out to us at (920) 435-5353 or contactus@cccp.com.
*Requires BrightPlates subscription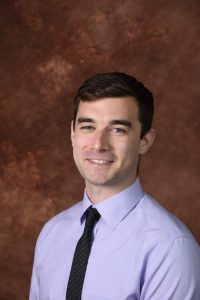 Written by: Justin Wetzel, AV Systems Engineer
Justin is a born-and-raised Green Bay native. He went to Green Bay West High School then followed his education there with a degree from NWTC in electrical power distribution and digital media. He was with HP for 3.5 years as a printer technician after graduating from NWTC. Justin has always enjoyed tinkering with electronics, and has worked in the IT industry for several years. He got married in September 2017, and did a honeymoon at Harry Potter World in Orlando, FL. He lives in an old Victorian-style house with his wife. In his spare time, Justin likes to dabble in photography and videography, and also likes biking on the Fox River Trail.