CCCP Earns Platinum Status with Milestone Systems
May 9, 2018
---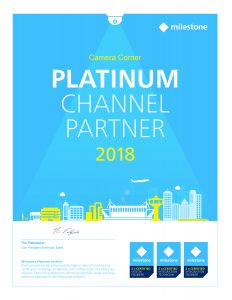 Camera Corner Connecting Point (CCCP) was announced as a Milestone Platinum Partner, becoming only the second integrator in the state of Wisconsin, and the only integrator solely based in Wisconsin, with Platinum status.
"We are excited to announce this to our customers," said Security Systems Engineer Scott Wittman. "There are several benefits to becoming a Platinum partner, both to CCCP and to our customers, which makes this a huge win."
Platinum Partners are defined as having "received the highest level of training and certification in working with Milestone products and are able to offer the full range of Milestone's product portfolio. They have the experience and skills to handle all projects, regardless of complexity."
To earn Platinum status, the Physical Security team had to spend numerous hours in classes and studying to test and get certified as Design Engineers, Integration Technicians and Integration Engineers.
"We are proud to confirm Camera Corner Connecting Point as a Milestone Platinum Partner, meaning they have received the highest level of training and certification in design, installation and configuration of a Milestone solution," said Alex Knapik, Milestone Channel Business Manager. "The technology of surveillance and security is evolving rapidly, and we're honored for CCCP to work with Milestone and the Open Platform Community to keep their customers ahead of the curve."
About Milestone
Founded in 1998, Milestone Systems is a world-leading provider of open platform IP video management software (VMS), dedicated to deliver high-quality business video platform software, in which its community of hardware and software partners can integrate its video solutions for security and beyond security purposes. Its objective is to improve its community customers' organizational processes and safety level through the management, integration and distribution of digital video data.
About CCCP
CCCP is a third-generation IT, AV, Physical Security and VoIP value-added reseller and specialty electronics retailer, serving customers since 1953 throughout Wisconsin and the Upper Peninsula of Michigan. CCCP's mission is to provide the latest in technology, backed by best-in-class customer service and support. With a full staff of engineers, designers, technicians and installers, CCCP expertly serves virtually every area of IT, AV, Physical Security and VoIP.  For more information, visit www.cccp.com.