Camera Corner Connecting Point Announces New President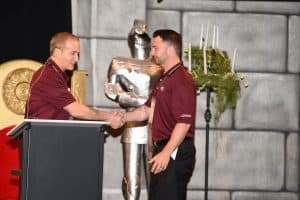 It was an exciting day for Camera Corner Connecting Point (CCCP) on May 23, 2017; not only because of CCCP's annual technology expo, but also because CEO Rick Chernick announced his son, Ryan Chernick, as the new president of CCCP.
That morning, Rick Chernick spoke about the history of CCCP and how his father, Norman Chernick, started the business as a camera store in downtown Green Bay in 1953.
Since taking over the business in the 1980's, Rick Chernick has grown CCCP into the IT, AV, VoIP and physical security solution provider it is today. As he talked through the history of CCCP, he noted previous president, Earl Neville's retirement in 2010, and how there has not been a president at CCCP since that point in time.
As Rick proudly announced Ryan Chernick' s promotion he stated
"Now is the time for the younger generation to become more involved in the day-to-day processes of our business," Rick Chernick said. "I am excited to work alongside Ryan and our wonderful family of employees and continue to grow our company and provide value to our customers."
Rick will remain CEO and intends to work for the foreseeable future.
Ryan Chernick addressed the vendors and employees in attendance, thanking many who helped mentor him throughout his years at CCCP and
in addition, he also explained his goals and plans to continue to care for the customers, employees and vendors like they are family.
"I am look forward to continuing the legacy that has been created at CCCP by my father and grandfather," Ryan Chernick said. "I am excited to have this opportunity and look forward to the challenge."
About Camera Corner Connecting Point
CCCP is a third-generation IT, AV, Physical Security and VoIP value-added reseller and specialty electronics retailer, serving customers since 1953 primarily throughout Wisconsin, and the Upper Peninsula of Michigan. CCCP's mission is to provide the latest in technology, backed by best-in-class customer service and support. With a full staff of engineers, designers, technicians and installers, CCCP expertly serves virtually every area of IT, AV, Physical Security and VoIP.  For more information, visit www.cccp.com.